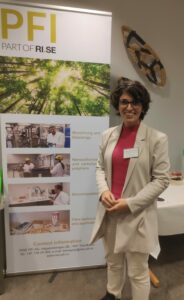 The Ph.D. candidate, Masoumeh Jahani, participated in the 8th conference of the biannual meetings titled Recent Advances in Cellulose Nanotechnology Research.  The conference was organized by RISE PFI in Trondheim, Norway, on 5-6 October 2022. 
This conference gathered several universities and industrial partners from different countries including Norway, Sweden, Belgium, the USA, Finland, and so on.  
 The focus of the conference was the production, characterization, and applications of cellulose nanofibrils and nanocrystals. It also aimed to demonstrate how the exploitation of nanocellulose has been developed from being merely a research topic into commercially available products. 
During the conference, the attendees get the chance to update themselves on the latest developments in cellulose nanotechnology and share their knowledge and experiences. 
Some of the topics covered during this year's seminar were as follows: the pilot plant production of microfibrillated cellulose, X-ray diffraction analysis of cellulose, preparation of stimuli-responsive actuators from cellulose nanofibrils, development of nanocellulose as a wound dressing product, and progresses towards industrial applications of cellulose nanotechnology.  
 Masoumeh presented her poster regarding how the presence of nanocellulose fibrils improves the printability of gelatin in terms of filament formation, filament collapse, and buildability. She also explained how this improved printability can be exploited in the field of tissue engineering for the biofabrication of patient-specific tissue-like constructs.  
Masoumeh's reflection from the conference was as follows: 
It was a great opportunity for me to meet many different industrial partners. The way that all these partners are working with cellulose, but with different aims, from packaging to health was fascinating. Attending such a conference inspires you to think beyond research and move forward to make your research commercialized.